Like any good book junkie librarian, I get giddy about my opportunity to share some fine reading with you.  Our revived book consumption and robbing the library shelves of their newest books has kept our local librarians in shape.  Forget the workout on the days that we visit our lending library.
Just remember,  you never know what might happen if you give a mom a book!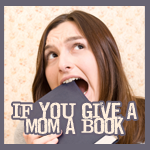 Some sustainable reading for your shelves in December might include:
New Year's resolutions are right around the corner, I recommend feeding your brain some coconut oil.  Find out how in this rather challenging idea of eating fat to loose fat  by Mary Enig and Sally Fallon.  It works . . . I've tried it . . . I felt better.

Now that your gardens are closed, consider this entertaining read that I must admit, sounds all too familiar.  The $64 Tomato reveals the true cost behind one man's journey into the world of growing his own food.  A funny book that offers incite into all the little extra costs involved in owning and maintaining your very own garden.

And if you find yourself needing to relax, curl up with Velma Still Cooks in Leeway.  You can check out what Broadened Horizons had to say about it (that is the book club I belong to — when I can go!)
I have a new favorite bedtime snuggle book:
I would be remiss to not prepare you for Christmas.  These books are to be read daily leading up to Christmas.  Like a devotional . . . but in story form.
The Jesse Tree by Geraldine McCaughrean is a heartwarming story about a man carving a Jesse Tree in his church.  He is daily interrupted by a little boy who helps this old man realize the real meaning behind Christmas.  This book is excellent if paired with the building of your own Jesse Tree.


Additional daily devotions that lead up to Christmas include this series by Arnold Ytreeide.  I wouldn't recommend reading all three during the month of December.  Last year we read Jotham's Journey and this year we will gather together each night to journey with Tabitha, in Tabitha's Travels.  There are parts of these books that have elements that can cause a young mind with a fabulous imagination to perhaps . . . become anxious.  We entered into the book knowing that . . . and using that fear to walk our sons through learning to recognize truth and using Scripture to overcome fearful times.

Did you miss last month's discussion of Sustainable Books?  Check out November's If You Give a Mom a Book.

* this giveaway is closed – Susan is our winner*
Our friends at Master Books want to give two (2) books away to our readers!  The World of Animals is a fantastic resource to add to your homeschool collection!


"The World of Animals investigates and describes the anatomy, behavior, and habitats of over 1,000 animals. From microscopic worms and insects to reptiles, birds, and mammals, this book will provide children with an insight into the incredible range of life in God's wonderful world. This comprehensive but easy-to-use book boasts a wide range of features to help bring its readers face-to-face with the science and beauty of the living world."
Simply comment here and share your favorite Christmas read this month !  Don't forget this week 12/13 Master Books #teachthetruth twitter party! They are giving away 5 copies of A is for Adam!
giveaway winners will be chosen & announced this Friday !