What a great launch! Thank you for swinging by and checking us out! The Homeschool Village is taking a July 4th vacation – so we'll see you back here next week! Until then ….

Please welcome our 1st gust post from Michelle at Some Girls Website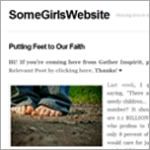 When Stef asked me to guest post for The Homeschool Village I was excited. When I found out my guest post would be the first to appear here I kind of freaked out and thought she was CRAZY! 😉 You see, I don't feel like much of a homeschooling mom. I think of myself as a little too free-spirited to be a true "homeschooler". Which is kind of funny, because I'm a former kindergarten, second grade and preschool teacher and have a degree in Elementary Ed (certified to teach prek-6th grade in the State of Texas).
So, you might think I'd feel very qualified for the job. But after my first year of teaching my oldest son (a first grader), I can tell you right now, it was a lot harder to do than teaching a whole classroom of students ever was!
We started the year with lots of workbooks and a somewhat-strict schedule, but I finally realized my son and I needed a different approach to learning/teaching (if I was to keep any of my hair and we were to develop a good relationship). So, I let go of some things and leaned heavily upon our one-day-a-week science, Bible and art enrichment classes while narrowing our focus to reading, writing and math at home. Our days are not so structured. My boys (almost eight and recently three) have checklists they have to complete each day that include reading, writing, math, basic chores, health and hygiene (age appropriate lists of course).
I don't care when they get them done as long as they're done before bedtime. The rest of the time we spend watching our tadpoles, growing sunflowers and pumpkins, chasing lizards, exploring nature, helping others, reading good books and playing around. While this year has been a struggle for me, I am SO glad I chose to homeschool. My son is beginning to read well and starting to enjoy it. Our relationship has grown stronger and His love and understanding of God (which is of highest importance to me) has grown indescribably this year! (Praise be to God!) And I've even signed up for another year of it (which says a lot)!
So, there you have it. My free-spirited, Charlotte-Mason-like, pseudo-Montessorian approach to homeschooling. (Do you see why I thought she was crazy?) But, as Stef explained to me, we need every type of homeschooler to share in the Village – no cookie cutters here (or to put it another way we want to show ALL ways – it's not one-size-fits-all!!). Our approaches are all different, and it's GREAT to learn from each other (and encourage each other)! I can tell you that I REALLY look forward to hearing how YOU do homeschool, learning from you and being encouraged with you!
Thanks Michelle for sharing with us!
What would a fun new blog be without a giveaway? One of our blog followers will win!

Homeschooling at the Speed of Life: Balancing Home, School, and Family in the Real World with CDROM [Paperback] by Marilyn Rockett
One Villager will be selected by Mr. Random Numbers and announced Wednesday. Thanks for being apart of and supporting the Village!!